Belville House
Sea Island Developments has made enquiries in relation to a new residential development and a day nursery with associated parking in Ponteland.
At present, there are three potential development options for the Site, as identified within the accompanying development options document.
Option 1 involves the Belville House site only and the delivery of a residential scheme similar to the extant permission. This option would provide 27 apartments with 27 car parking spaces, plus 3 visitor spaces and Fairney House would remain as existing.
Option 2 encompasses both the Belville House and Fairney House sites as well as the adjoining council owned land. The scheme would include a larger residential development comprising 39 apartments and 39 car parking spaces, plus 4 visitor spaces. In addition would be a 420sqm nursery with external play space on the current council owned land. Parking would then be provided off site at the adjacent car park to the west of the Fairney Burn.
Option 3 involves all sites, with both the Belville House and Fairney House sites providing 45 apartments with 45 car parking spaces. The current council owned land would provide external amenity space for residents. An off-site nursery and car parking area would then be provided by the car parks to the east and west of the Fairney Burn.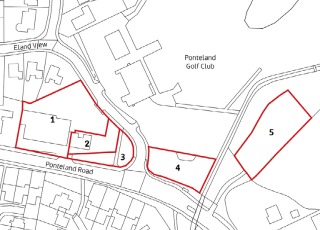 Number of Apartments
TBC
Size of Apartments
TBC
Location/Area
Ponteland
Local Authority
Northumberland County Council