Hawkeys Lane
Sea Island has been granted planning permission for a site in North Shields to develop extra care housing for older people.
The guiding principle of this development is to specify and design the building in collaboration with North Tyneside Council's social care commissioners so that the end result is based on evidence of what works. A design team comprising architects, developer, commissioner and care provider has agreed what is needed to offer a high quality of life for tenants and long-term sustainability for the development itself. This collaborative approach gives confidence to all involved: to the commissioner that the scheme will provide a genuine alternative to residential care; to the operator that it will enable staff to minimise dependence on paid support; to the investor that people will want to live there for years to come.
The scheme will offer 51 one-bedroom two-person flats at an average size of 51 square metres. Careful attention has been paid to building 'design for dementia' into the scheme. Outside spaces – including balconies and landscaped gardens – are seen as essential to fulfilling and healthy lives.
This case study demonstrates that the developer can apply learning from its other developments to specialised supported housing, such as: understanding what the market needs; collaborating on innovative design; maintain a clear vision on quality of life from start to finish.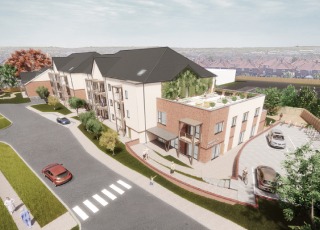 Number of Apartments
51
Size of Apartments
51m²
Local Authority
North Tyneside Council